Vellano from Casa Verde – Yes that is the View!
This is the beginning of 2021 here in Vellano.
So many of you will be hoping that perhaps this is the time we can begin to think about holidays in this beautiful part of Italy. Great sights to see, stunning weather, lovely beaches within reach, mountains to explore and climb and above all the glorious food and wine in local 'trattoria' that serve local dishes in picturesque villages.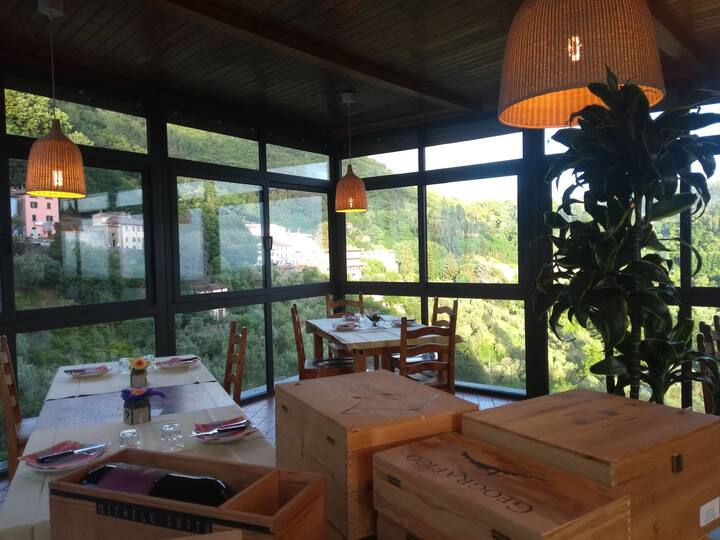 Locally there are numerous festivals and celebrations to join in with. Here in Vellano alone there is the May Day festival with street stalls and music; in July the cake festival, in August 'Ferra Agosto' – holiday in August – or Ferragosto with lively dancing in local square and in October the chestnut festival, with roast chestnuts, castagnaccio and necci, sweet pancakes. Again this festival draws large crowds and street sellers to Vellano.
This is where we are with 11 years of experience providing holidays at our Casa Verde Apartment, with great facilities two terraces with it's lovely views and tranquil airs upon which to read a good book.
So what can we offer to you in these uncertain times? Space to be yourself in a rural hillside setting.
But close enough to many sights from the most popular locations in the region; Florence, Lucca, Pisa, Siena and the coastal beaches. we are never short on warm to hot sunny days to spend by the sea.
Pisa, Florence & the Coast an hour from Casa Verde
A place to be healthy, cycling in the hills, fantastic walking on spectacular and well signed pathways in the mountains and on the plains. We at Casa Verde are eager walkers and last year we completed, over a period of four years the Italian half of the fabulous and increasing popular pilgrimage walk from the Alps at Gran San Bernardo Pass to the Vatican in Rome. Stretches of which pass nearby down the Versilian coast through Lucca Altopascio and San Gimignano.
There are many other well signed paths locally and in through the Appennines that are worth the effort for day hikes too. You are never far from some breath-taking views!
The luxury of sitting, on jasmine scented days, with a glass of wine. Watching the fireflies on warm summer evening illuminating the olive terraces.
So what are you waiting for? Summer holidays will be with us again soon.
In the meantime we hope you all stay safe; wherever you are.
With our very best wishes,
Casa Verde
Casa Verde is a self check-in and Covid Secure holiday destination
Vellano Pescia Tuscany Italy
See Casa Verde @: www.tuscanyholidays-casaverde.com